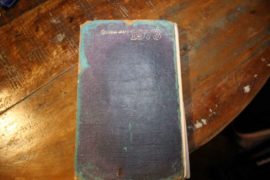 Maurice and Maralyn Bailey spent 117 days on a liferaft, after their yacht was struck by a whale and severely damaged.
Maralyn kept a diary day by day. Her notes became a faithful record of their adventures. Last time I was in England and visit Maurice, I asked him to bring the diary to our meeting  as he was still keeping it at home, and fortunately I could take photos of each page which also helped me a lot to better understand the progression of their mental condition during their 117 days. You can enjoy reading their whole diary I prepared below for those who want to know more deeply about their day-by-day experience.
FOLLOW OUR CASTAWAY STORIES ON INSTAGRAM
FOLLOW OUR CASTAWAY STORIES ON FACEBOOK
FOLLOW OUR CASTAWAY STORIES ON YOUTUBE
—
Follow Us!