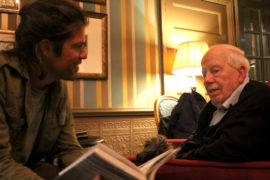 Due to my line of work, my life has been enriched with extraordinary people. To explore remote archipelagos looking for desert islands has given me the opportunity of discovering some astonishing hermits such as the voluntary castaway Masafumi Nagasaki, or the Vietnamese Tarzan, Ho Van Lang.
I have also met singular people amongst my clients – those who only look to convert themselves into voluntary castaways for a few weeks – such as Reikko Hori or Ian Argus Stuart. Hence, there are many different types of people who want to escape from civilization.
What I didn't know was that one day I would meet someone like Maurice Bailey who, after 117 terrifying days surviving on the sea, would voluntarily repeat his experience, not on a desert island, but in a small inflatable raft.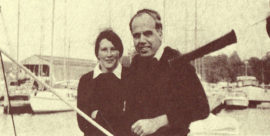 The story that Maurice and Maralyn lived through is now well known in this extensive article that I have written, but also in the old book '117 days Adrift' which has was converted into a classic for sea lovers of the 70´s and 80´s. But through time, this old tale has fallen into oblivion.
This book captivated me when I was very young and I have always wanted to know more about this couple. Unfortunately Maralyn died of cancer in 2002 and I lost the opportunity of learning more about the second protagonist of this story as, in my opinion, the leading actors were the animals. Therefore I wont be able to talk much about Maralyn personality as I could never meet her. My limited information about her is only from what Maurice used to tell me and also from the book.
Sadly Maurice has recently passed away, that the age of 84, therefore I really wanted to do something for them and I have created this emotional video as a tribute to their lives. But also because it was a forgotten story. Now, Fifty years later, in a period of animalism and feminism, I thought it was a good moment now to bring this fascinating 'fable' to mind. They were definitely a very original couple ahead of their time.
A few years ago I didn't doubt in contacting Maurice, which wasn't easy as the last decade he has lived in a very austere way and far from society.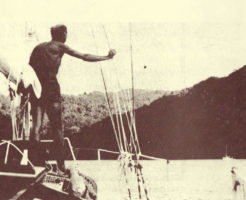 On reading the book I always sensed that this couple were very sensitive of the environment. Even though survival took precedence, taking the lives of the animals that lived around the raft was a very traumatic experience because of the love they felt towards them. With tears in his eyes Maurice explained that they had to kill living beings to be able to eat.
"We were living so close to the sea that we became part of it, simply living just like some more sea creatures". 
Therefore, Maralyn and Maurice promised should they survive that ordeal, no animal would suffer at their hands ever again and so eventually they became vegetarians. In 2016 Maurice confirmed to me that they never eaten meat since this castaway experience.
Maurice confessed that if he could turn back the clock, If he knew that he would be rescued after 4 months, he would go back to living on that raft, adrift, in spite of all the drama he lived through.  According to him, "because it was a marvellous experience".  He had never coexisted so close to nature for that length of time.  He fell in love with the animals that came to live close to them, but above all with a whale that stared at him without blinking during half an hour, a few centimetres from the raft.
I was also surprised by the admiration he professed towards his wife, who was his guide throughout life. Maurice was deeply in love with her and she was his life.  Maralyn was the person who gave him the security he needed to face his day to day and was also the person who saved his life on the raft.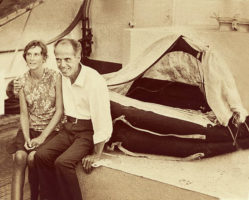 Since she died Maurice has lived these last years completely alone. When I say 'alone` I'm not trying to exaggerate as Maurice has no one else in this world.
It was hard to believe that I was one of the very few people who maintained contact with him until his death. Sometimes we called each other, other times we wrote to each other via emails. I always insisted on the need to have an alternative contact in case I stopped receiving mails or he didn't answer my calls. He couldn't give me this for, though it's hard to believe, he had no one.
The last conversation I had with him was related to the story of the castaway, Salvador Alvarenga, who recently spent 438 days adrift.  I gave Maurice the new book about Salvador. I wanted to know his opinion about him and to change impressions. After this conversation about the new castaway I never heard anything more from him. I spent several months trying to contact him, and after speaking to various people who lived near his house, it was the Editor who gave me the bad news.
HIS RELATION WITH MARALYN
Although in the interview Maurice didn't admit it, he felt very alone without Maralyn. His uncomfortable silences gave it away. Because of this, on other occasions he would say:
"She was the guiding light on everything we did and now that she is gone there is nothing. I find it incredibly lonely not to have her around"  
Maurice Charles Bailey was born in Derbyshire in 1933.  My impression is that he did not have a good relationship with his parents from whom he received a very strict education, lacking in affection. Maurice never saw them again after doing his military service when he was 19 years old.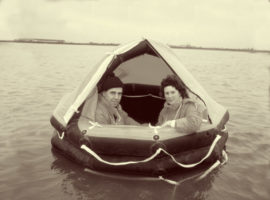 Neither was Maurice a religious believer but rather the opposite. The experience he had with his family -a very conservative family with strong religious beliefs- made him totally reject anything whatsoever to do with the church, including his rejection of God.
On the other hand Maralyn did believe in 'something'. She believed that the majority of what happened to them in the Pacific Ocean was predestined. Her belief in some supernatural power that ruled her life never weakened.
Throughout their experience of 117 days on the inflatable raft Maurice was on the point of giving up several times. However, the energy that Maralyn possessed and her faith in destiny was what helped him not to give up and what made him hang on to life.
"If I had been alone on the raft I wouldn't have survived.  It was Maralyn who saved me" confirmed Maurice.
What I never learned about Maurice was about his human qualities. He had surprising humility but he also had a series of insecurities that limited him the whole of his life. He carried all these complexes from his infancy throughout his life. He was an incredibly sincere person and he opened his heart wide for us in front of camera.
He told me that he had had a very hard infancy because as well as a lack of empathy on the part of his parents he had physical complexes. He stuttered and this made him more timid. During his adolescence his insecurity in himself made him feel incapable of having friends.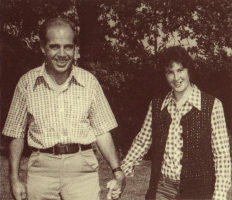 "Nature didn't mould me as a confident companion and I knew that I needed someone like Maralyn in my life to make up for the confidence I lacked. From early childhood I became anxious and obsessed about how others looked at me and contemplated my physical imperfections, my lack of aptitude, and my introverted nature"
Maralyn Collins Harrison was born in Nottingham in 1941. While she was still very young her parents were divorced and she was then adopted by a Derby couple. She worked as a tax officer.
The way they met was memorable and you can read about it in this other article. 
"I was extraordinary lucky to find her. I was extraordinary lucky that she chose me out of all the other suitors she might have had. I was the one who married her and I felt I was extraordinary lucky. Without doubt she was remarkable"
Maurice and Maralyn were married in 1963, but It wasn't an easy task for him to ask her to marry him:
"Not often in my life has there been a time when I found sufficient strength to overcome my social inhibitions to ask Maralyn to marry me. The event was truly remarkable. I had little hope of her accepting my proposal. That she did so with such willingness speaks volumes. I had imagined I came Iow down in the line of her suitors. In my bachelor mind marriage seemed a wild and implausible idea, but the odd thing was, for Maralyn and me, it seemed to work"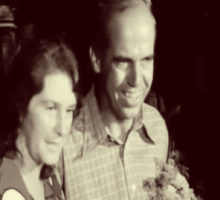 Nevertheless, Maurice never showed much enthusiasm in any ceremony, specially the religious ones.  Luckily for him, Maralyn also had a similar aversion to these rituals, Maurice was also reluctant to have children.
"I had to discuss with her my reluctance to bequeath progeny; I was determined my genetic line should finish with me. Again Maralyn surprised me and said she also had no desire for procreation"
"Over the years a frequent topic raised at social gatherings has been families.  People suspected we had a physical problem, or, quite often, they thought we were downright selfish. I always failed to understand their reasoning. I have lost count of the number of times I have stammered 'It's not that I don't like children  … .' Actually I am not very keen on them since I always feel uncomfortable in their presence, not knowing what to do or say. I am not a father, I think, for the same reason I am not a nuclear physicist, or an astronaut. I try not to do things I cannot do well"
In spite of this, they were happy being able to dedicate their lives to that which they were passionate about:
 "Maralyn and I were content and we always thought of ourselves as a family, not as a couple, but a family of two. We created a purpose for ourselves and neither of us cared very much for what anyone else thought"
If you wish to know their FULL STORY on the raft you can read this article I wrote.
You can read the diary of Maralyn during the raft here.
Like I usually do with my favorite castaways, we have also created these colorful paintings and this website as a tribute for both of them.
But you can always ask me in the comments below and I will share more details of the conversations I had with Maurice Bailey before he passed away last year.
FOLLOW OUR CASTAWAY STORIES ON INSTAGRAM
FOLLOW OUR CASTAWAY STORIES ON FACEBOOK
FOLLOW OUR CASTAWAY STORIES ON YOUTUBE
Follow Us!