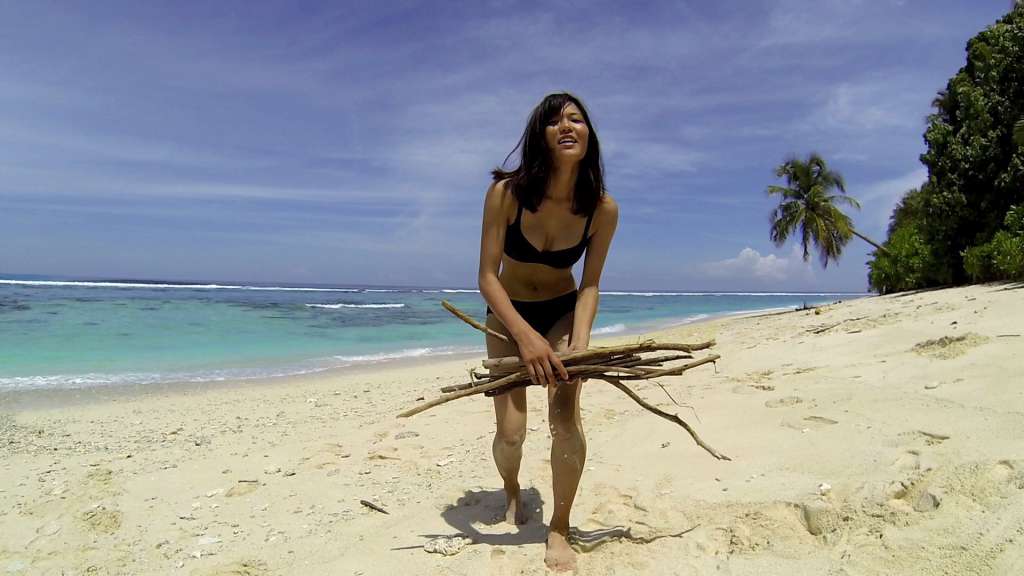 Reikko Hori has become our first female client to go solo and probably the first female voluntary castaway in history. This fascinating 22 year old Japanese girl spent 19 days surviving on what nature had to offer on the island of Amparo in Indonesia. Nor did she have either machetes or lighters to help her.
Because of her nonexistent survival preparation in natural surroundings and her strange habits, which we noticed when we exchanged emails with her, we decided to stay on the island during her first 24 hours to be sure that she was psychologically prepared at least.
Apart from this, and for security reasons, a guard stayed there around the clock, watching the only entrance to the island, which was about 40 minutes from Reikko's camp. Because of this our castaway enjoyed the maximum isolation and protection but at the same time would be able to ask for immediate help from our guard in case of emergency.
While we were preparing this experience a few months before, the fact that Reikko hardly ever answered the questions we asked her via email, nor did she send us any doubts that she may have had, we became rather worried.
Taking into account that she didn't have any survival knowledge whatsoever, our preoccupation only grew. We needed to assure ourselves that her life would not be in danger once she was left alone on the island. In addition, we wanted to picture document the first few hours on the island of what would probably be the first voluntary female castaway known. Luckily Reikko gave her permission to video her first moments there.
When we picked Reikko up at the airport on the first day all our fears were confirmed. She hadn't given herself more than an hour to organise her experience. She hadn't prepared anything and didn't bring adequate clothing, not even a swimsuit, just a pair of jeans. Therefore we provided her a pair of short trousers. The worst of all was her absolute ignorance on means of survival. Taking all this into account she wanted to carry on, with hardly any tools to help her and she refused to listen to any explications from Alvaro Cerezo, nor from any other team member.
Moreover, during the 24 hours that we stayed with her, Alvaro also suspected that Reikko had difficulty in detecting danger and in feeling pain! This is what Alvaro tells us:
"She walked barefoot on the sharp coral, just is if she was walking barefoot at home. She slept on the floor in the jungle without it even crossing her mind that an animal could walk over her in the middle of the night."
"On the day we picked her up at the airport, while we were waiting on the docks before setting off for the island, I just happened to look back and there was Reikko sitting in a corner holding a dead, decomposed rat with her fingers, closely analysing it", explained Alvaro.
"Reikko didn't want advice or lessons on survival" he continued. "When she heard that we would be with her the first 24 hours she asked that in exchange for allowing this we wouldn't give her any explanations during our stay. She wanted to discover everything on her own."
According to Alvaro: "Reikko didn't have anything to help her light a fire but she was sure she could manage it. Unfortunately being able to make a fire with your hands and without any experience, as well as not being physically prepared, is an almost impossible task.
So, of course, I insisted several times that she should take with her the magnifying glass we carried, that way she could at least enjoy the challenge of being able to light a fire." Fortunately Reikko accepted and in the video on the right you can see her first attempt.
Reikko slept on the ground and in the open air the first few days, never entering her mind that there could be torrential rain, something quite frequent in Indonesia. In the video below Reikko can be seen explaining her plans for sleeping on the island and, as you can see, she hadn't given it much thought.
Above, in the third video in the begining of this post, Reikko is desperately trying to open her first coco while Alvaro was suffering seeing how close she was to hurting her hands.
She hadn't had a drink for several hours and it had been very hot all day. It goes without saying that she never accepted the bottled water Alvaro and the rest of the team carried.
During those 24 hours Alvaro and the Docastaway team made Reikko sign an agreement where she promised that she would call us, or visit the guard at the entrance to the island, should there be an emergency. We were afraid that her stubbornness to have no contact with anyone could lead her to ignore us even in the case of an extreme necessity. In the video above Alvaro is making sure she will call the Docastaway team in case of emergency.
If you wish to know how her experience ended after 19 days visit this page.
Follow Us!