WHO IS NAGASAKI?
An elderly, 82 year old Japanese man has been living more than 29 years as a 'castaway', completely naked, and alone, on one of the few islands that remain deserted in Okinawa, Japan.
His name is Masafumi Nagasaki, previously a photographer who, one fine day, decided to leave his past life and all else behind him and escape to his dream paradise forever. The lucky island that is host to this strange guest is called Sotobanari, a desert island still not dominated by man, located in Iriomote (Japan) and where even the local fishermen rarely stop.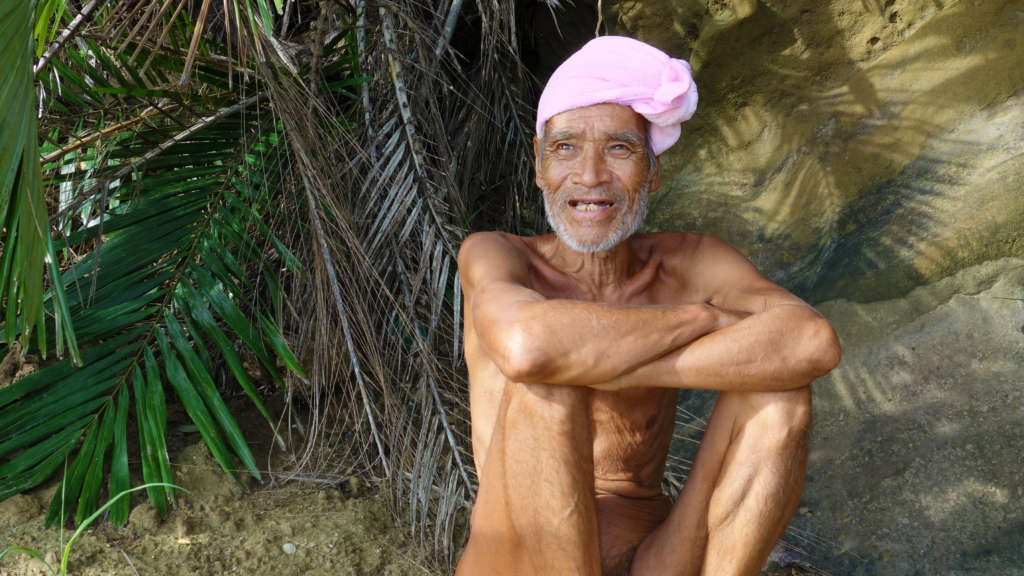 We are not actually talking about a naturist, lover of extreme naturism as this is not exactly the reason this Robinson came here; during his early years on the island he still followed the customs of 'civilization' using clothes daily. But one day a strong typhoon swept through his place of refuge and he lost the few personal belongings he had. He soon realised that he didn't really need any clothes on this remote island, in fact «wearing clothes here was for me completely out of place».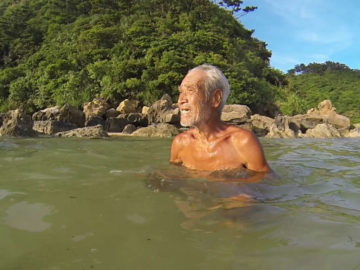 Masafumi Nagasaki has become the voluntary castaway who has lived the longest time on a desert island, surpassing even the Australian castaway David Glasheen, who is currently spending 22 years on his desert island and with whom I spent 5 days. He hasn't, however, beaten our 'beloved' Vietnamite Tarzan, who was isolated for 41 years -although not totally voluntary- whom in 2015 I also spent 5 days in his jungle. 
Nagasaki had got it quite clear in his mind to live the rest of his years as he's lived up to now, in complete harmony with nature, not having to obey what society dictates but what his surroundings impose. He had decided that «there isn't a better place in the world to die than this».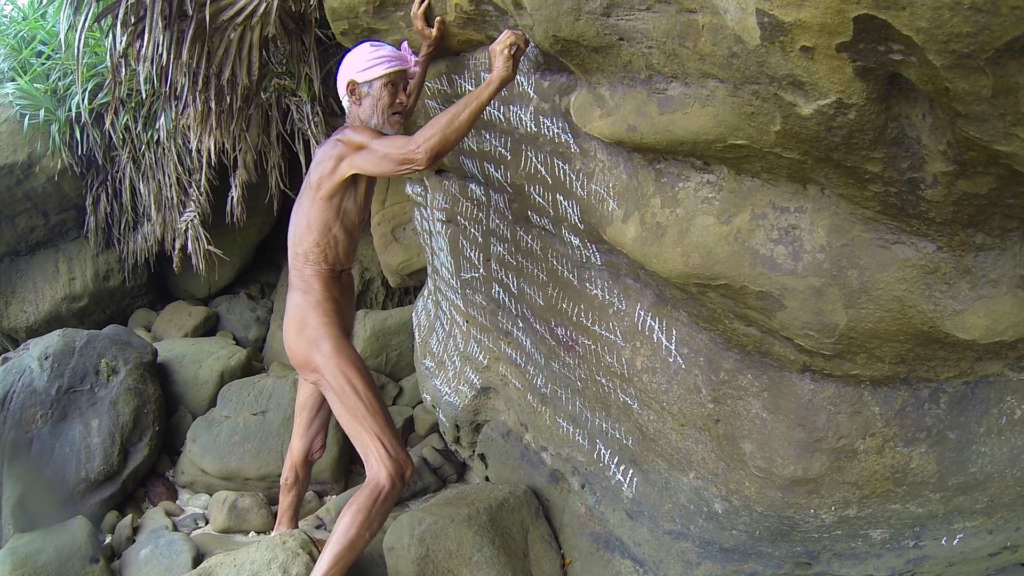 Sadly, last month the Japanese authorities forced Nagasaki to go to a hospital with no hope of returning to his island. His dream days in the paradise are over 🙁
But fortunately. three years ago I had the chance to visit him on his island. They were 5 unforgettable days interacting with Nagasaki which helped me to see through his eyes, and enjoy his lonely life. After many years following his trail, I was finally able to be alone face to face with this endearing Japanese castaway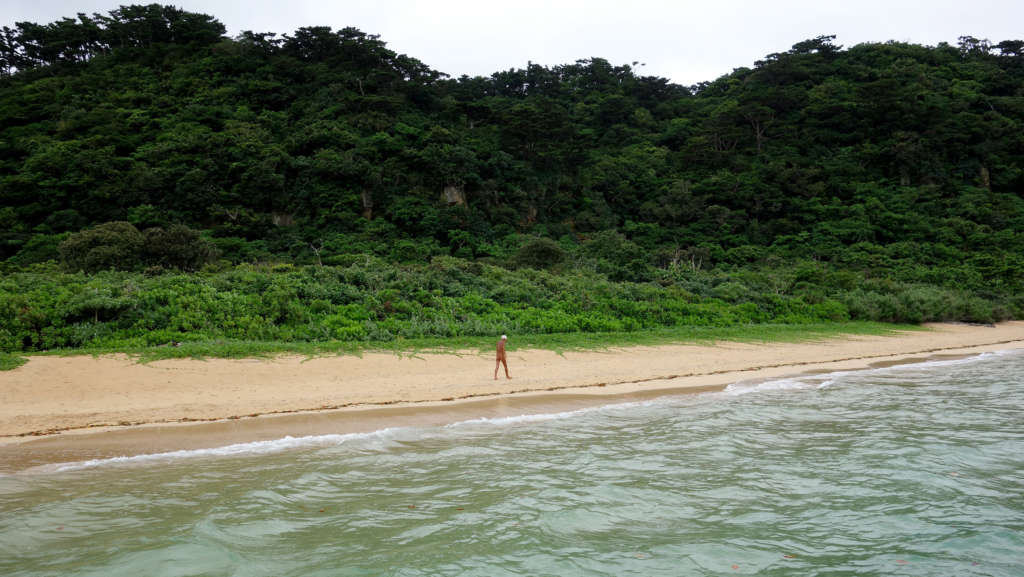 On this article I will help you to understand about his fascinating personality, and the details of his past and present life. Morever, I strongly advise you to watch the interview I made which you can find on Youtube. We have also created this website specially for him, as a tribute for his unique lifestyle.
PREPARATION OF MY TRIP
In 2014 our Director of Operations, Tamiki Kato (who is also Japanese) and myself travelled to the archipelago of Iriomote on one of our explorations looking for new desert islands for our clients.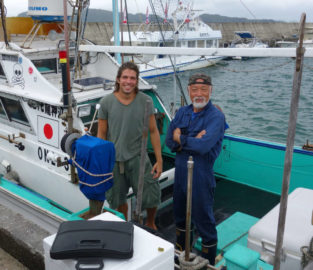 Iriomote is a savage place, isolated and with little population, which makes it a perfect place to find possible islands. It's been quite a while that Tamiki and I have particularly wanted to offer to our castaways a desert island located in Japan.
Having already visited several mythical Robinson Crusoes like David Glasheen or Ho Van Lang, for years I've been following the trail of this Japanese 'hermit'. And, because of this, my journey to Irimote would give me the great opportunity to spend a few days with him and enjoy his island. However, there was no guarantee that he still lived in Sotobanari or, more important, that he would agree to meet me, as I had been told that he wasn't keen on visits.
When we reached the archipelago of Iriomote we spent the first few days exploring the different islands and deserted beaches in the area. There Tamiki and I met Mr. Aoki -Nagasaki's best friend- who he acted as an intermediary for us.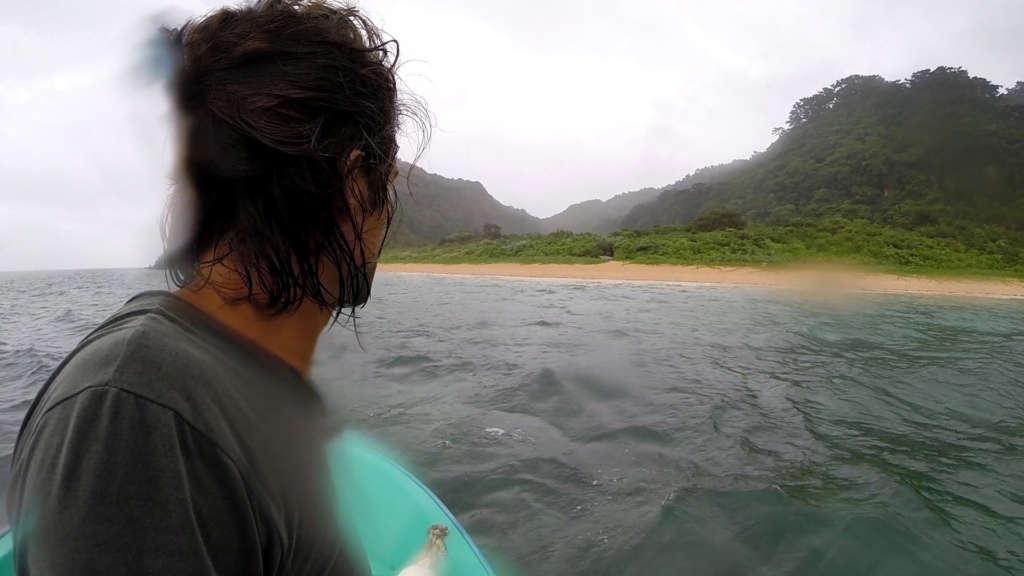 Mr. Aoki went to the island to communicate my passion for castaways to Nagasaki, and ask of the possibility of spending a few days alone with him. And, fortunately, he agreed to my visit.
However, as I don't speak Japanese Tamiki decided to accompany me the following day to help me over the first few minutes of introductions. As soon as that was done, Tamiki left the island, leaving me alone with Nagasaki, and he stayed in the nearest village until the end of my experience.
MY FIRST HOURS WITH MASAFUMI NAGASAKI
On arrival I was surprised to see that Masafumi Nagasaki had everything organised and had prepared a tent for me just 100 metres from his camp and which was equipped with all the smallest details.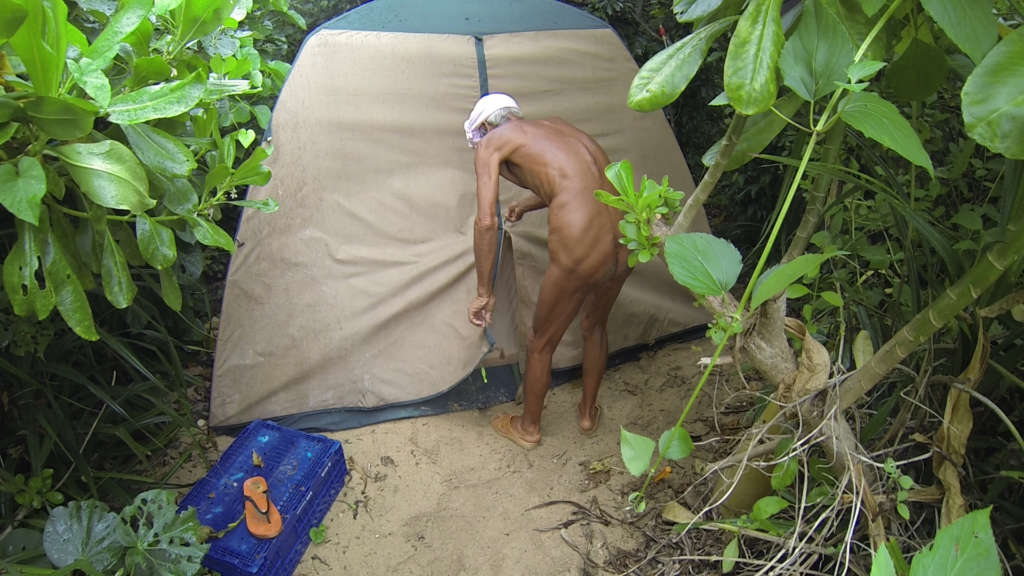 During the presentations Nagasaki informed me of the numerous rules on his island: «before entering your tent you have to wash your feet with this bowl of water that I have left at the entrance» and he continued : «there are just two toilets on the island, one at each end of this beach, but first you have to look for which way the current goes. You will only go to the toilet at the end of the beach where the current is going, that way the faeces will go with the current».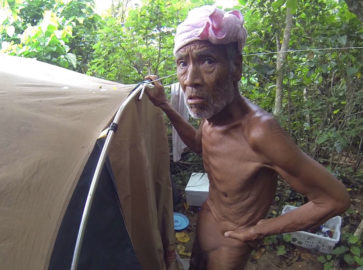 I have to admit that, despite the economic shortages of this old man, Nagasaki never asked me for anything in exchange for spending his time with me. Still, on saying this, on my arrival he confiscated all my food 😀  That made me tune my survival instinct, improvising fishing on my own and trying to find something to eat in the jungle.
At times I felt like in the film 'Hell in the Pacific' (1968) where an American marine and a Japanese soldier ended up surviving separately on the same desert island.
MY PROBLEMS OF COEXISTENCE WITH HIM
Masafumi Nagasaki was an absolutely beautiful human being but at the same time he was extremely disciplined, up to the point that he caused me some funny situations during my stay on the island;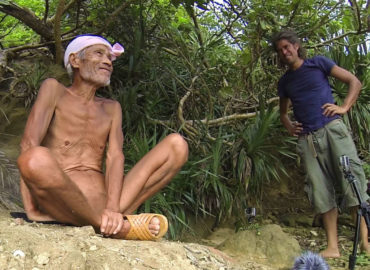 As is usual in people of advanced age, his timetable was strict. But I never imagined that it could reach such an extreme in a person who had, precisely, left civilization to escape from the stress. Totally the contrary; For this Japanese Robinson one minute's delay could be converted into a Matter of State.
I have to admit though, that I have never stood out for my punctuality, especially when I'm on a desert island. Tropical life makes us more flexible and that is precisely what I expected of someone who had been living alone for a quarter of a century.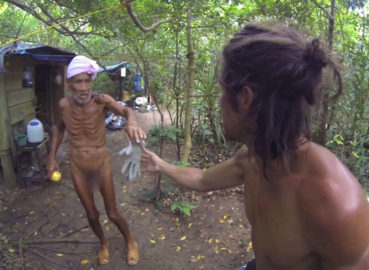 The second day I dared to arrive 5 minutes late at his camp to look for oysters on the beach. Nagasaki was quite angry, swearing profusely (although I couldn't understand him, I would have bet on it).
From there on I arrived 5 minutes early each time. Nagasaki had a wrist watch hanging from a tree at the entrance to his camp and he consulted this several times a day. Bit by bit my stay of the island became more like a military experience, which made it a bit bizarre, but without doubt more exciting 😀
HIS UNIQUE PERSONALITY
His routine was programmed to the millimetre. From 18:30 to 08:30 he stayed in his tent for fear of the mosquitos and nothing could make him come out, however much I insisted. Because of this I dedicated most of my time wandering around the island alone, looking for food.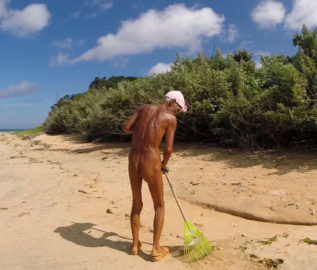 Each morning Nagasaki began his gym sessions followed by hours cleaning the beach, wearing his white gloves and with a rake. I have never seen a beach as clean as his, not even in the most luxurious island resorts. It was hard to believe but Nagasaki spends several hours of the day sweeping seaweed and bits of wood, and picking up with his own hands, pieces of coral that the sea had brought in during the night. Later he separated the wood from the rest and used this as fuel for cooking. He rarely used wood from the jungle.
I never saw Nagasaki walking barefoot: despite living in the nude he always used cream coloured sandals to protect his feet. He lives worrying about collecting bits of coral that he could step on by accident. And he is not wrong to worry because it is very painful if you do stand on coral and it could lead to a serious problem of infection.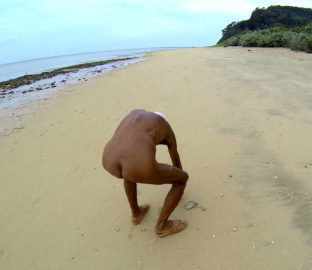 That is why this Japanese castaway is never relaxed whilst walking on the beach: he kept his head down, looking from side to side for any object which stood out. A walk on the beach with him was a walk with dozens of stops. After five days I was still impressed by his show of energy.
However, it is perfectly understandable that people of his age tend to be strict with their daily chores because that way they keep a certain order in their lives, above all when their physical and mental faculties begin decreasing. Without going any further, during my five days I noticed that Nagasaki frequently forgot objects in different parts of the beach, which I always went to pick up. For this, his strict order was logical.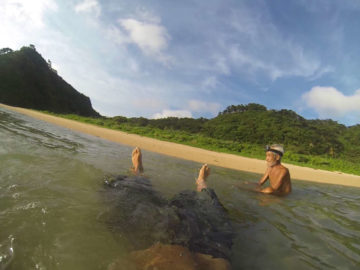 On the other hand, this Robinson lived in fear of being infected by a virus from outside, so any physical contact with him was limited. That's why he sometimes refused to shake hands or share food. Again, his reason was good as he has never been exposed to pathogenic agents from civilization and, taking into account his advanced age, I am sure his immunological system is poorly prepared for this.
The communication between us was never too fluid. I don't speak Japanese and Nagasaki doesn't know English, though he did know many words, including some in Spanish. He always called me 'Señor'. Nagasaki didn't manage to pronounce my name properly.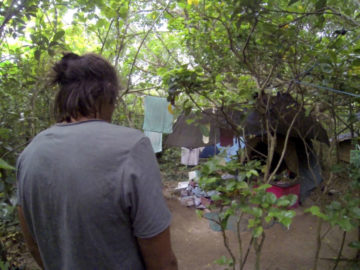 His mood changes were very pronounced. He could go from happy and smiling to shouting like an angry sergeant in just one minute. He was very unpredictable, but at the same time adorable. Whatever small thing he didn't like could ignite his mood.
One day he made me some rice and, on finishing eating, he began to shout at me for leaving a few grains of rice on the plate.
MY LAST DAY WITH HIM
On my fifth day my dear friend Tamiki Kato came to the island to 'rescue' me, bringing with him different foods for which I really enjoyed.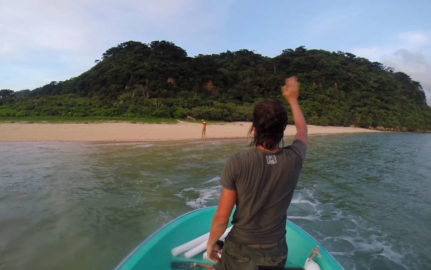 My last hours on the island were very pleasant as, at last, I had a translator who could clear up hundreds of doubts that I had had during my stay. We were also able to carry out a very interesting interview which you can see on the video here below, and which I strongly recommend.
They were 5 unforgettable days and I am extremely thankful to have had the opportunity to see through his eyes for the last time and enjoy his precious island.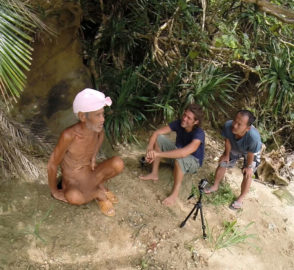 After my visit, we have been in touch with locals every few months to check his status.
Sadly, last month the Japanese authorities forced Nagasaki to go to a hospital with no hope of returning to his island.
Therefore a few weeks ago we sent one of our collegues to visit him in Ishigaki (Yaeyama) which is the city where Nagasaki is staying now. Our collegue could spend some time with him. Tamiki and me could even have the chance to talk with Nagasaki by Skype using our collegue's mobile phone.
FACTS ABOUT HIS DESERT ISLAND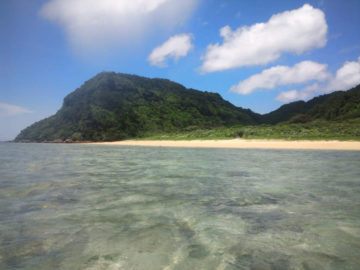 I didn't expected it, but on arrival I was truly surprised by the real beauty of Sotobanari. In addition, this marvellous island is the home of dozens of aquatic, insects and terrestrial species. As we were nearing Sotobarani on the launch various sea turtles were hiding as we passed.
On this island there are also wild pigs and a type of dangoreous viper snake commonly called 'Habu' (Protobothrops flavoviridis) whose bite can be fatal if it isn't treated in time. Masafumi Nagasaki has met some of them, even inside his tent but fortunately without incidents.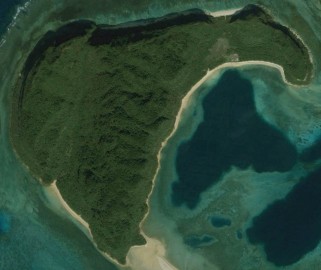 However, on this desert island there aren't half the dangers as those on David Glasheen's island in Australia, which is infested with crocodiles. I was surprised by the amount of spiders of every type and colour that there are in Sotobanari. I was also surprised that there wasn't a single coconut palm on the whole of the island.
Being a mountainous island, the telephone is out of range on the beach where Nagasaki lives as it is orientated to the opposite side of the nearest village (south west beach on the map above). For this reason, I was cut off from the outside world during my 5 days unless I walked out to the tongue of sand when the tide was out.
HIS PAST LIFE
Nagasaki doesn't like to talk about his past but we know the he was married and we suspect that he has 2 children. His most well-known profession was that of a photographer, which he doesn't want to hear or talk about at all. His passion for this came from his father who was very famous in the photographic world.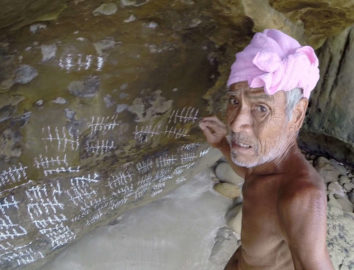 It is suspected that he also had other jobs. One being in a factory in Osaka, another in a hotel in Shizuoka, and also as a barman in a hostess club in Osaka. He even ran his own hostess club in Niigata, but these last jobs have not been confirmed.
Since the wife he had when he was 52 he hasn't had any more contact with a woman up to the present, but Nagasaki says that he doesn't miss them.
HIS FIRST YEARS ON THE ISLAND
According to what he told me, he arrived on the island 29 years ago: While he was working in the factory in Osaka he always commented to his co-workers his strong desire to escape one day from civilization, and one of his collegues told him about Iriomote. Then, during a flight from Fukuoka to Asake, he was horrified at the amount of pollution he saw from the plane, especially in the sea. Then he 'exploded'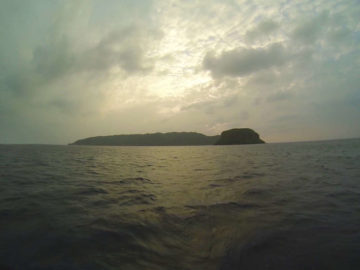 It was at that moment that he decided to leave everything behind and to go to the place his workmate had spoken of.
When he arrived at the main island of Iriomote he was disappointed because it wasn't wild enough to be able to disconnect from the modern world. According to Nagasaki in the main Iriomote island there were still cars and even some occasional tourists. However, just before he was going to leave to look for a new place a local fisherman convinced him to try the small island called Sotobanari, this wasn't far away from the coast, but it was deserted.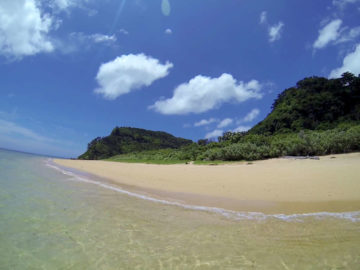 Off they went together to this island and Nagasaki fell in love with it immediately. However this Japanese hermit was afraid he wouldn't be allowed to stay there. «I insisted that the owner would throw me off, but the fisherman told me that the island had many owners and that it would certainly be difficult for them to get together to throw me off the island» and he went on to say, «the fisherman said that if nobody came then I could stay». And that's what happened, the fisherman left the island, leaving Nagasaki completely alone there with a tent.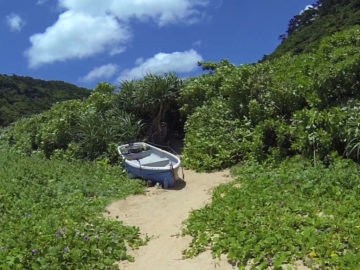 In truth, it was only luck that led Nagasaki to Sotobanari. He had no preferences for a desert island, any natural, isolated place would have been equally acceptable. At the beginning he thought he would stay on the island a couple of years. He never imagined that he would end up there for the rest of his life.
The first few months were very hard due to the typhoons. Nagasaki was a city man with no outdoor experience. Bit by bit, however, he began making a life for himself on the island and learning to understand nature's rhythms. After a time he even began to have empathy with the animals and to reject meat and fish.  That was when, for the first time in his life he felt the significance of happiness.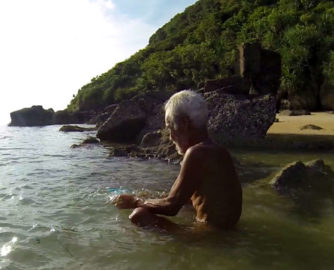 Several times Nagasaki has attempted to be self-sufficient, growing vegetables. Unfortunately, the terrain of the island isn't fertile and he loses almost all of what he plants. Because of this, Nagasaki's oldest sister sent him 80 USD every month so he could survive as the island hadn't enough to offer. Once a month this hermit dresses is his clothes and travels by boat to the nearest village to buy food, but he doesn't spend more than 2 or 3 hours there. This is really the only way that someone knows that he is still alive.
At the beginning we would all have thought it more romantic if Nagasaki had been able to survive from what nature provides, without external help. He would have been a self-sufficient man and freer too. But we must understand that at his age it would be difficult to stay alive for a long time. Surviving on an island by your own means wears you down and is hard work. Our clients are able to easily survive on their islands because their ages are more reasonable (between 21 and 65 years old) but above all because they do it for just a few days, being able to use the energy reserves that we have in our bodies. But at 82 it's very different.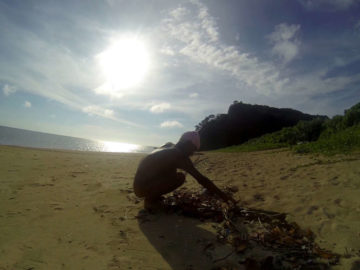 On one of these escapes to the village Nagasaki met Mr. Aoki, a bit of a rogue, with a very interesting past full of adventures and misfortunes.  From what I could understand we're talking about another unadaptable person who ended up in Iriomote, also escaping from the rigid Japanese society. The connection between the two men was immediate and they became great friends. Unfortunately Aoki died two years ago so Nagasaki was left a little lonelier.
At the beginning on the island Nagasaki had a hut but the typhoons completely destroyed it. So he decided to live in a tent. Those typhoons made him lose a large part of his belongings, including his clothes (except his beloved pink towel and other turbans). He soon realised that it really wasn't necessary to wear clothes.
HIS PHILOSOPHY AND WAY OF THINKING
Whilst I was on the island he told me something really curious that made me smile «Every so often I go up to the highest part of the island to look at my camp from above. The only reason is to be able to see how big I am in this place. If my possessions are taking up too much space then I know I must get rid of some. My only aim is to live fitting in with my surroundings and my presence shouldn't be noticed».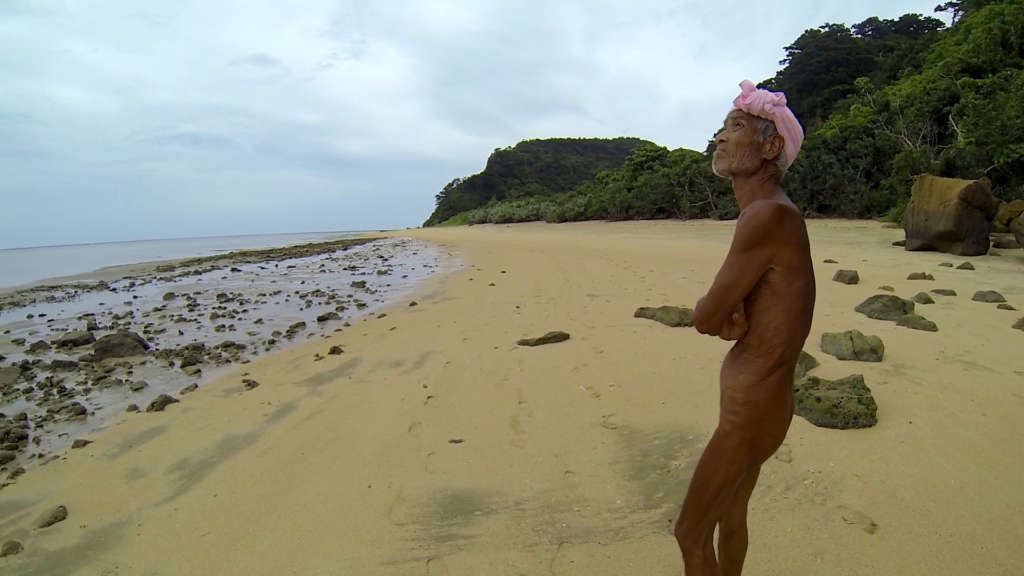 Although he still values certain things from civilization, especially lighters 'they are an incredible tool', there are few other things that he likes in the modern world. He's very sure: «Even if society should change radically, I will never go back to civilization». And he continued: «Here, on the island I don't do what people tell me to do, I just follow nature's rules. You can't dominate nature so you have to obey it completely».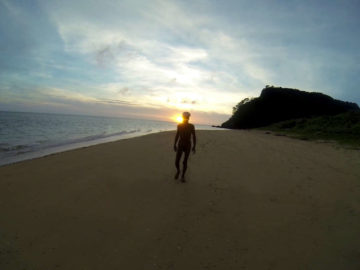 Nagasaki seems to have been disillusioned a lot in his past. He told me that one of the reasons he had ended up on the island was for having been too nice to people, and they took advantage of him for this: «In civilization people treated me like an idiot and made me feel like one. On this island I don't feel like that»
I can understand how hard it must have been for him not being able to adapt to such a rigid and demanding society such as that in Japan.  In fact there are thousands of people in Japan who each year commit suicide for this same reason. Curiously Nagasaki never contemplated ending his life at any time, not even in his most critical years.  «I am a too positive person to commit suicide. I will always look for an alternative, like escaping to live on this island»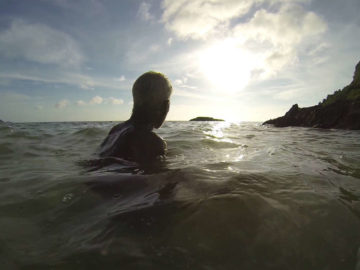 Nagasaki doesn't believe in life after death. He doesn't believe in religion on which to blame all the bad in the world. Neither does he have a fear of dying, though he is very clear that he wants to die on the island.
All these years the Japanese Authorities have tried to convince him to return to civilization. Even last year they forced him to move to the island in front of where he was, and he has continued to live there naked and in his tent. The government was prepared to buy him a house, including his provisions and care. But Nagasaki won't hear of it. He has already decided that there isn't a better place to die and, in my opinion, he's right, there is no a better place.
Nonetheless, Nagasaki is convinced that he won't be evicted:  «I'll fight tooth and nail. I'll give my life to protect this place. I will protect the island».
Unfortunately, this month he was 'captured' on the beach and taken by force to civilization. It's sad but now he won't be allowed to return to the place where he found a reason to live. Nagasaki is a true inspiration for us. Our clients normally spend one or two weeks on our desert islands. But Nagasaki has been away for 29 years. He is like a hero for us. By the way, dont miss the interview that is so interesting. Only on Facebook reached 3 millions views.
Do you think any of your friends would enjoy reading the life of this castaway? If yes, please share this article with them. Thanks for your support!
If you liked this castaway you may also like the story of the Vietnamese Tarzan or the Australian Robinson.
FOLLOW OUR CASTAWAY STORIES ON INSTAGRAM
FOLLOW OUR CASTAWAY STORIES ON FACEBOOK
FOLLOW OUR CASTAWAY STORIES ON YOUTUBE
—
Follow Us!