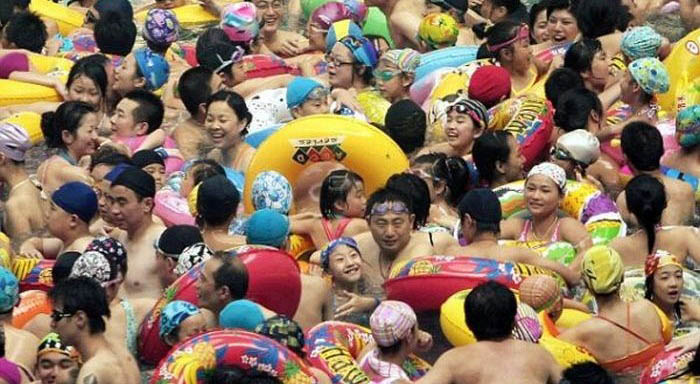 If you are a crowded places, then you're in luck as there are three 'musts' that you should visit.  These are the weirdest places on earth: paradises crowded with people.  I'm talking about the following:
1 – MAHO BEACH
The noisiest beach on earth
It's on the Caribbean island of Saint Maarten and it's where maximum tonnage aircraft fly just a few inches over the beach.  This means that approximately every half hour your relaxing and laid-back moment is interrupted so that you can enjoy 30 seconds of maximum tension.
This white sandy beach has been converted into one of the island's main attractions, there is even a timetable with the details of all the daily flights so that the tourists have the 'day's menu' on hand and can prepare themselves for these 'thundering' visits.
It's quite curious really, but even more curious are the people who go to the beach as we're talking about a paradoxical combination of maximum relaxation and adrenaline.
But, I ask myself, what if the next plane was to fly lower than it should?  According to the stunning images in this interesting article that I wrote recently, you can be sure that it isn't a joke, and that the option of crouching a bit 'just in case' could become a recommendable action.  Don't think so?  Then ask Tiffany in this entertaining video.
But that's not all, oh no!  Another hidden surprise is waiting for you on the take-offs and is, without doubt, the cherry on top of the cake on a beautiful day at the beach.  It's no more, nor less, than the marvellous experience of Jet Blast:  The air coming from the reactors of these giant aircraft is capable of making a car fly!  I doubt then that I need to explain what it could do with a holidaymaker!  If seeing is believing, then take a look at this interesting article which is especially dedicated to this unique beach.
2 – HAUNDAE BEACH
The world's most crowded beach
This famous beach in South Korea can boast about being in the Guinness Book of Records for having the world's greatest number of sunshades and, it would seem, the most bathers!  In July 2008 I decided to visit this beach to see with my own eyes what you can see on this photo.  What I encountered was that although I found myself amongst a conglomeration few times seen, the reason that there are so many sunshades is because the Koreans don't like suntanned skin, and that's why they sunbathe with their clothes on!
This video was taken on a normal summer's day.
As you can see on the video, there is a great mass of people swimming, all crowded together at sea shore and it would seem that they have no interest in going in any deeper.  So, as I was there I had the opportunity to see for myself that at the point where the bathers seem to have set a weird and invisible 'out of bounds', indeed there is a rope and yes, it is not permitted to go past this point!  To make sure that this 'line of division' is heeded, the beach has been equipped with a modern security system which includes various watchtowers and speedboats constantly patrolling backwards and forwards close to the shore.
So, me being me and due to my insatiable curiosity, I decided to check the modus operandi of this 'security system' and this is what happened:
I started to swim; melting in with the rest of the bathers, and when I got to the 'frontier' I covertly lifted the barrier above my head, keeping a watch on the nearest watchtower through the corner of my eye.  I have to point out that I kept hold of the rope, from the outside of the area, during the time this went on so my crime of 'dodging the mass' was only slight.  It was then that the guard (who had been standing to attention, binoculars in hand, head moving to the right and left as if he was watching a tennis match) stopped and directed his gaze on me at the same time as he started blowing his whistle non-stop, to draw my attention.  But I wanted to see what the guards on the speed boats patrol would do, so I pretended not to hear the whistle.  That was when the tower guard used his walkie-talkie to call for the help that I was anxiously waiting for and in only a few seconds a speed boat came upon me and ordered me to get to the other side of the rope and join the rest of the flock. 
Without doubt Korea offers its citizens a strange kind of over-protection which, it could be said, is a good thing, but I personally much prefer our beautiful desert islands.
3 – TOKYO SUMMERLAND
The most crowded swimming pool on earth
Just looking at the picture tells the whole story and really there is little more to add!
But you must admit that it has to be an absolute 'no-docastawayer' who would be able to stay in the pool for the last wave!!
Now, tell me.  Are you longing to spend long holidays in any of these places?  In that case, you can leave your comments in the space below.  I shall be very interested to hear from you.
Do you think any of your friends would enjoy reading this article? then use the buttons just here, below, to share it with them.   Thanks for your support
Follow Us!